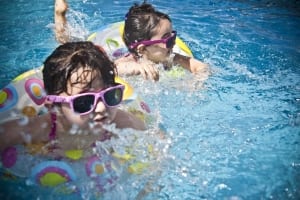 Living on the lake is beautiful, but it can also be dangerous. You can never be too cautious about water safety, especially when you have small children. Before you even start looking at Lake Keowee homes for sale, learn all you can about water safety. Here are some tips for keeping your toddler safe when you live on the water.
Water Safety at Home
It's easy to get complacent when you're home, in the comfort of your own back yard. But this is the riskiest place for drowning. Follow these tips:
Lock all exterior doors, including front doors that don't lead directly to the water.

Use a chime system so that if a door is opened, you'll know.

Consider fencing in the back yard with a childproof latch so that kids can play in the yard without being able to reach the water.
Safety Near and in the Water
Whether you're hanging out on your own private dock or swimming/wading in the water right off your own property, this is another place for extreme caution.
Adequate supervision. Keep your eyes on your children at all times or make sure someone else you trust is watching. Always make sure a responsible adult is keeping an eye out for trouble. If that designated person needs a break for any reason, be sure to appoint someone else to keep watch.
Put the phone away. Phones are incredibly distracting and pull your attention away from the water in an instant, often without even realizing it. Plus, your phone is at risk for water damage when you have it out near the water. The safest option is to store it some distance away from the water.
Make sure your kids can swim early. Swimming lessons can start for babies as early as 6 months. Survival lessons are available for kids of all ages that teach them to float on their back in the water and not to panic in case they accidentally fall in. The earlier your child learns to swim, the better.
Boating and Watercraft Safety
When you have your small child/children out on a boat or jet-ski, there are some additional water safety tips that you should take into consideration.
People of all ages should wear a life jacket. This goes for everyone, whether you can swim or not. Boating accidents can involve head injuries that could leave you unconscious. In that case, a life jacket can literally save your life. Make sure the life jacket fits properly and is put on correctly. Life jackets often have an easily forgotten strap that hooks between the legs to keep them from riding up and sliding off. Be sure to secure that strap, in addition to the front clasps.

Wear, and have your kids wear, non-slip water shoes while on the boat to prevent accidents or falls.

Enroll the whole family in a boating safety class.
Find Lake Keowee Homes for Sale through Total Quality Homebuilders and Waterfront Properties
Now that you and your entire family, including the tiniest one, are prepared to live on the water with these safety tips, you can start checking out Lake Keowee homes for sale. Total Quality Homebuilders and Waterfront Properties specializes in both custom home building and real estate, so whether you're looking for an existing home or a lot to build on, TQ can help. Call today to see what's available now: (864) 868-5253.
https://www.totalqualityhomebuilders.com/wp-content/uploads/2018/12/Clancey-136.jpg
725
1024
Team TQ
https://www.totalqualityhomebuilders.com/wp-content/uploads/2018/11/total-quality-home-builders-waterfront-300x112.png
Team TQ
2019-04-05 16:35:46
2019-06-06 12:32:32
Lake Living: Tips for Keeping your Toddler Safe when you Live on the Water