You Gotta Love it When a Plan Comes Together
Many times a couple will search and search and finally find the perfect waterfront lot … and then begins the difficult builder interview process, searching for just the right fit. It's seldom one is fortunate to find both a Waterfront Land Specialist/Broker and Builder under one roof.
The Bauers' Story – Waterford Point Community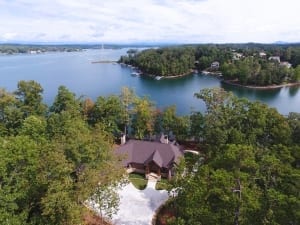 "Jean and I decided to retire on Lake Keowee after looking for lake property for 12 years. We did research online from Orlando and then came up for a week to buy a lot. Our original realtors did not work out after spending only a few hours together. We happened to pass the Total Quality Home Builders office, which was one of the builders we were considering.
"We stopped in to see if they could recommend a realtor to help us buy a lot. We met Tim Revis, Paul Davis, and Jenna Emerson. Everyone was very nice, and Tim said he could help us. We had a few lots in mind and he made some calls and selected several lots for us to see. After a few days, we decided on a lot and Tim closed the deal the same day."
"Tim did an excellent job explaining the TQ process, and we thought so highly of the team that we decided to use them as our builder without even talking to anyone else. We were very impressed with the charity Tim founded, HomesofHope.org. Tim and the TQ Team were obviously good people that we could trust with building our dream home. That was especially important since we were building while still living in Orlando. We trusted Tim Revis completely, and Total Quality Home Builders did not disappoint.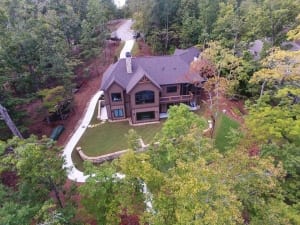 "Paul did an excellent job with the foundation and lot preparation work. Scott Johnson took over working all the remaining details. We picked some of our options directly with subcontractors TQ recommended and selected many others through Scott. That entire process went exceptionally smooth. TQ deals with very reputable suppliers and people and those suppliers that we dealt with were very helpful. Working with Scott was extremely easy as well (since we have similar taste). So, once he understood our vision, he took it from there and helped customize even the smallest details. All the interior and exterior finished turned out as we hoped. We moved up to Seneca two months before the house was complete which was great since we got to meet many of the subcontractors. We were at the house every day and were able to see the final touches executed. Larry McDonald took over working the final details and helped close out the punch list items. Larry is great to work with as well and brings years of building experience.
"We are very fortunate to have found such a beautiful lot and TQ built us a stunning home! We moved in six months ago and still wake up every day and can't believe how fortunate we are to live in this beautiful home on this gorgeous lake. We are grateful to TQ for the attention to detail and for building such a fine home. Without a doubt, we would recommend Total Quality Home Builders to build your custom dream home for you."
HB and Jean Bauers
Waterford Point Community
https://www.totalqualityhomebuilders.com/wp-content/uploads/2019/01/Waterford-Pointe-Aerial.png
600
1100
Team TQ
https://www.totalqualityhomebuilders.com/wp-content/uploads/2018/11/total-quality-home-builders-waterfront-300x112.png
Team TQ
2019-02-28 13:34:10
2019-04-10 09:54:26
Building on Lake Keowee
The Bauers' Story